Dave Schultz Memorial International
Expected Entries For The 20th Schultz Memorial
Expected Entries For The 20th Schultz Memorial
A list of projected entries in all three styles for the 20th annual Dave Schultz Memorial International
Oct 20, 2018
by Nomad Lobdell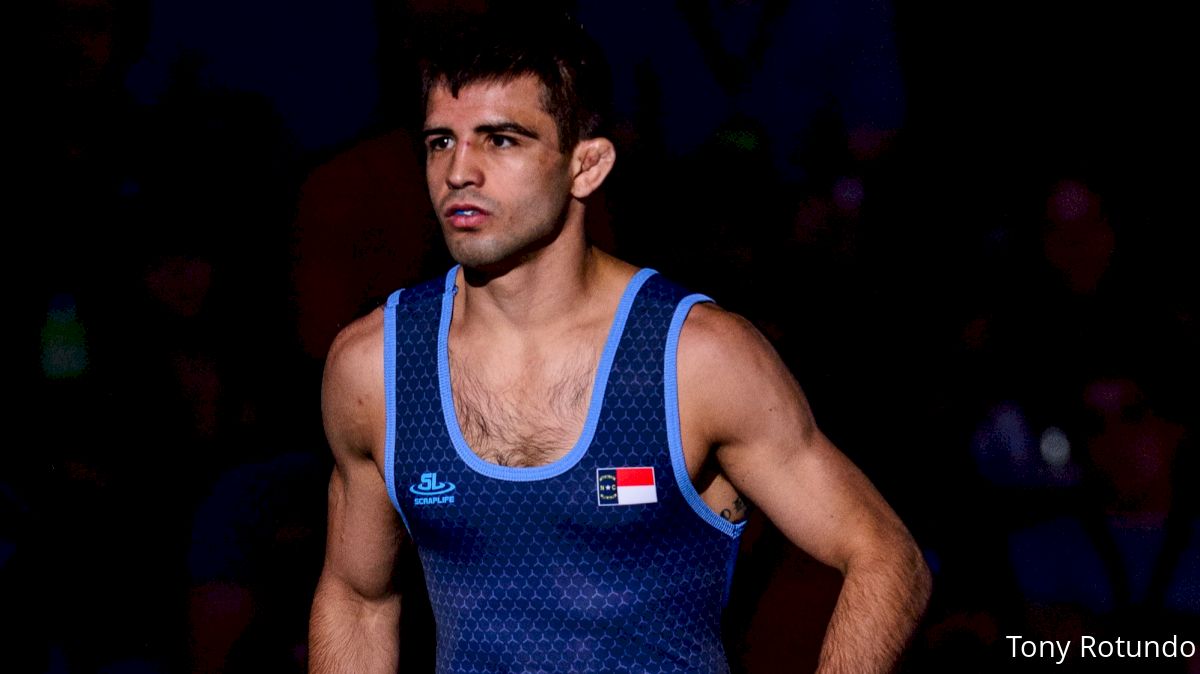 We are just two weeks away from the 20th
Dave Schultz Memorial International
and entries are starting to filter in. Below is a list of projected entries in all three styles, which includes Olympic gold medalists, junior and senior level world champions, as well as world and national team members from the United States.
This will be the first event using the 10 new
weight classes
and two day weigh-in rules. The entries below were released courtesy of
USA Wrestling
.
Men's Freestyle
57kg
Tim Lambert (Sunkist Kids)
Austin Miller (Buffalo Valley RTC)
Samat Nadyrbek Uulu (Kyrgyzstan/Pittsburgh WC)
Joshua Rodriguez (Nittany Lion WC)
Eddie Klimara (Titan Mercury WC/Cavalier WC)
Joey Dance (New York AC/Chicago RTC)
Cho Minsu (Korea)
Choi Dong Kil (Korea)
61kg
Joe Colon (Titan Mercury WC/Valley RTC)
Nahshon Garrett (Sunkist Kids)
Tony Ramos (Sunkist Kids/Tarheel WC)
Cody Brewer (Titan Mercury WC/Chicago RTC)
Sheldon Mack (Titan Mercury WC/Cavalier WC)
Johnni DiJulius (New York AC/Scarlett Knight WC)
Nick Dardanes (Titan Mercury WC)
Chris Dardanes (Titan Mercury WC)
Valoyda Frangulyan (Armenia)
Yosuke Kawano (Japan)
Kim Sung Gwon (Korea)
Park Sang Min (Korea)
65kg
Anthony Abidin (Valley RTC)
Josh Kindig (Sunkist Kids/Tarheel WC)
Joey Ward (Sunkist Kids/Tarheel WC)
Bernard Futrell (Titan Mercury WC/Pennsylvania RTC)
Evan Henderson (Titan Mercury WC)
Vincent Leone (Rhino WC)
Daniel Neff (Buffalo Valley RTC)
Montell Marion (New York AC/Scarlett Knight WC)
Artur Arakelyan (Armenia)
Hirotaka Abe (Japan)
Lee Seung Chul (Korea)
Kim Jin Woo (Korea)
Park Su Hyeon (Korea)
Sanjaa Ganbayar (Mongolia)
70kg
Jason Chamberlain (Valley RTC)
Robbie Mathers (Sunkist Kids)
Thomas Gantt (Titan Mercury WC)
Nazar Kulchytskyy (Titan Mercury WC)
Hunter Stieber (Titan Mercury WC/Oklahoma RTC)
Matthew Collum (Xtreme Training)
Han Ki Hun (Korea)
74kg
Dan Vallimont (New York AC/Pennsylvania RTC)
Quinton Godley (Wolfpack WC)
Gong Byung Min (Korea)
Seo Bum Gue (Korea)
Ankhbayar Batchuluun (Mongolia)
79kg
Jon Reader (Sunkist Kids)
Anton Kalista (CMPWC)
Stacey Davis (Wolfpack WC)
Lee Yun Seok (Korea)
Kim Sung Bog (Korea)
86kg
Pat Downey (Titan Mercury WC)
Richard Perry (New York AC/Pennsylvania RTC)
Takhiro Murayama (Japan)
Kim Gwan Uk (Korea)
92kg
Nikko Reyes (Valley RTC)
Vic Avery (Titan Mercury WC)
Timmy McCall (Titan Mercury WC)
Nathan Burak (Titan Mercury WC)
Takeshi Yamaguchi (Japan)
97kg
Blaize Cabell (Valley RTC)
Ty Walz (Titan Mercury WC)
Riley Lefever (Titan Mercury WC)
Seo Min Won (Korea)
Lee Jong Ku (Korea)
125kg
Dom Bradley (Sunkist Kids)
Jonathan Gingrich (Pittsburgh WC)
Michael Kosoy (Titan Mercury WC)
Justin Grant (New York AC)
Bobby Telford (Titan Mercury WC)
Ben Durbin (Titan Mercury WC)
Oleg Boltin (Kazakhstan)
Nam Koung Jin (Korea)
Not sure on weight class yet
Jon Morrison (Cliff Keen WC)
Jeff Palmeri (New York AC)
Kellen Russell (New York AC)
Austin Schafer (New York AC)
Brandon Wright (New York AC)
Matthew Brown (Army WCAP/Nittany Lion WC)
Greco-Roman
55kg

Kyndall Rutz (NMU-OTS)Son Hee Dong (Korea)
60kg
Tyler Cunningham (MWC Wrestling Academy)
Chung Han Jae (Korea)
Kim Seung Hak (Korea)
Choi Hyun Woong (Korea)
Lee Sang Hyun (Korea)
63kg
Isaiah Tatum (Northern Colorado WC)
Sammy Jones (New York AC/NMU-OTS)
Jordan Auen (NMU-OTS)
Lee Jung Baik (Korea)
Jung Do Kyung (Korea)
67kg
Austin Morrow (New York AC/NMU-OTS)
Travis Rice (NMU-OTS)
Hunter Kelley (NMU-OTS)
Clay Frost (Charger WC)
Austin Souders (Team Mohler)
Tsuchika Shimoyamada (Japan)
Ryu Han Su (Korea)
72kg
Justin Boyden (Betterman Elite)
RaVaughn Perkins (New York AC)
Tomohiro Inoue (Japan)
Toshiki Mori (Japan)
Kim Hi Hun (Korea)
77kg
Kamal Bey (Sunkist Kids)
Anton Kalista (CMPWC)
Giuseppe Rios (NMU-OTS)
Jesse Porter (New York AC/NMU-OTS)
Anthonie Linares (New York AC/NMU-OTS)
Colin Schubert (New York AC/NMU-OTS)
David Prado (NMU-OTS)
Ali Khan (NMU-OTS)
John Yeats (Tristar Wrestling Academy)
Alec Ortiz (Minnesota Storm)
Kim Hyeon Woo (Korea)
Lee Seung Hwan (Korea)
82kg
Kim Jun Hyeong (Korea)
Jeon Neuplueunsan (Korea)
Park Je Woo (Korea)
87kg
Kevin Radford (Sunkist Kids)
Khymba Johnson (New York AC/NMU-OTS)
Richard Carlson (Minnesota Storm)
Alfonso Leyva Yepez (Mexico)
97kg
Hayden Zillmer (Minnesota Storm)
Zach Merrill (New York AC)
Phillip Barreiro (Tristar Wrestling Academy)
Thomas Barreiro (Tristar Wrestling Academy)
Kim Seung Jun (Korea)
Lee Se Yeol (Korea)
130kg
G'Angelo Hancock (Sunkist Kids)
Malcolm Allen (Minnesota Storm)
Donny Longendyke (Minnesota Storm)
Kim Min Seok (Korea)
Not yet sure on weight class yet
Ryan Hope (New York AC)
Jessy Williams (New York AC)
Zach Roseberry (U.S. Marine Corps)
Joshua Manu (U.S. Marine Corps)
Josh Asper (U.S. Marine Corps)
Jesse Thielke (New York AC)
Cody Pack (New York AC)
Women's Freestyle
50kg
Victoria Anthony (Sunkist Kids)
Natalie Reyna (Titan Mercury WC)
Cody Pfau (Titan Mercury WC)
Erin Golston (New York AC)
Sarah Allen (Cumberlands)
Miyu Nakamura (Japan)
Kim Hyung Joo (Korea)
53kg
Amy Fearnside (Titan Mercury WC)
Cassidy Jasperson (Aires WC)
Leiana Nacapuy (Aires WC)
Yu Miyahara (Japan)
Lee Shin Hye (Korea)
Kamila Barboso (Brazil)
55kg
Dominique Parrish (Sunkist Kids)
Ronna Heaton (Grays Harbor)
Jacarra Winchester (Titan Mercury WC)
Monica Mendoza (Aires WC)
Kim Ye Seul (Korea)
57kg
Daniela Flores (Aires WC)
Fusano Mochizuki (Japan)
Kwon Hyeon Ju (Korea)
Mayara Graciano (Brazil)
59kg
Kayla Miracle (Sunkist Kids)
Natalia Hinojo (Aires WC)
Erin Redford (Aires WC)
Kim Han Bit (Korea)
Kim Minju (Korea)
62kg
Arian Carpio (Sunkist Kids)
Desiree Zavala (Grays Harbor)
Yui Sakano (Japan)
Hang Jin Young (Korea)
Grace Bullen (Norway/Campbellsville)
Lais Oliviera (Brazil)
65kg
Mallory Velte (Titan Mercury WC)
Randi Beltz (Titan Mercury WC)
Forrest Molinari (Titan Mercury WC)
Maggie Douma (Aires WC)
Jang Eun Sil (Korea)
68kg
Alexandria Glaude (Titan Mercury WC)
Yvonne Galindo (Aires WC)
Chiaki Iijima (Japan)
Hedda Strand (Norway)
72kg
Rachel Watters (New York AC/Aires WC)
76kg
Erin Clodgo (Sunkist Kids)
Victoria Francis (Titan Mercury WC)
Heo Nam Ju (Korea)
Iselin Solheim (Norway)
Aline da Silva Ferreira (Brazil)
Not sure on weight class yet
Lauren Louive (New York AC)
Alexis Porter (New York AC)
Julia Salata (New York AC)
Skylar Grote (New York AC)
Jessica Key (New York AC)
Niauni Hill (New York AC)
Charlotte Fowler (Campbellsville)
Koral Sugiyama (Campbellsville)
Mariah Harris (Campbellsville)
Hannah Gladden (Cumberlands)
Arelys Valles (Cumberlands)
Autumn Gordon (Cumberlands)
Kelly Ann Jimenez (Cumberlands)