Five Ranked Matchups In Minnesota At Oklahoma State Dual
Five Ranked Matchups In Minnesota At Oklahoma State Dual
There will be five matchups of ranked wrestlers in this Sunday's dual featuring #4 Oklahoma State and #10 Minnesota LIVE on Flo.
Nov 17, 2017
by Nomad Lobdell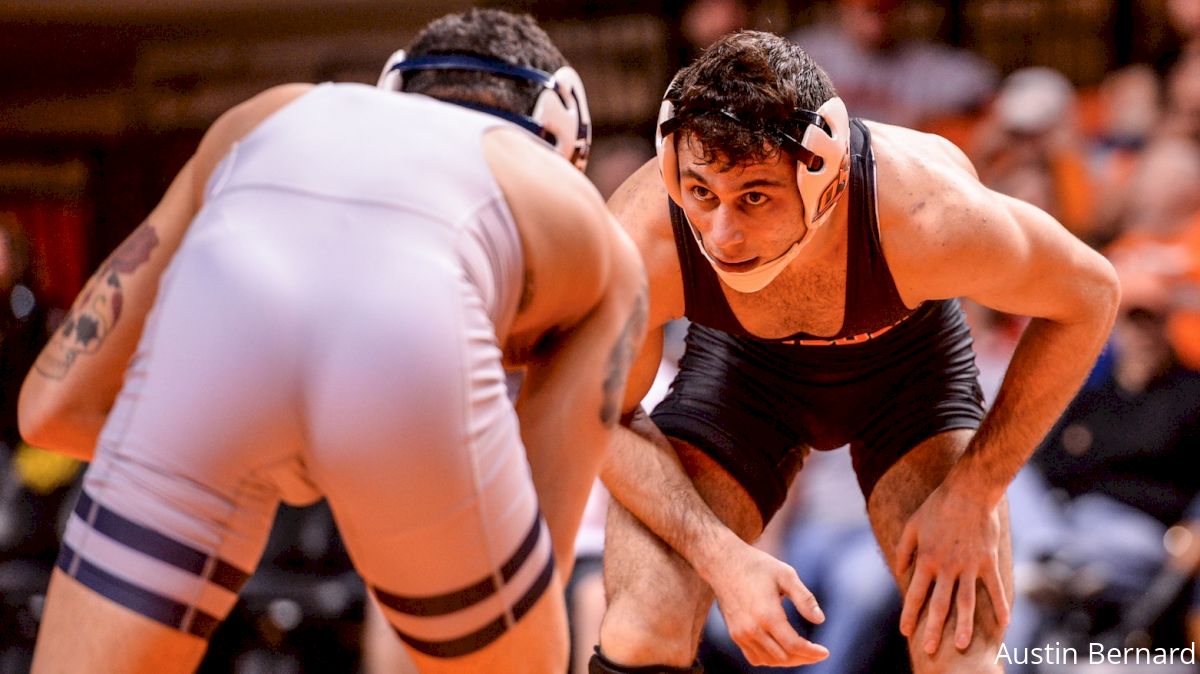 We've got a Sunday matinee for you, and the slate is full of intriguing matchups.
Half of the Minnesota at Oklahoma State dual will feature matches between ranked wrestlers, including a top five battle.
Let's run through those five bouts, and be sure to watch each and every one of them LIVE on Flo this Sunday at 5 PM Central time.
125: #3 Nick Piccininni (OK State) vs. #5 Ethan Lizak (UM)
Piccininni has already knocked off NCAA champion Darian Cruz, putting himself in early Hodge discussions, and now he'll get a crack at the other NCAA finalist in Lizak. Last time these two met, Lizak dominated, winning the takedown battle 3-1 and also turning the Cowboy twice in the first period. But Lizak has to make weight twice this weekend, and they will likely start at 125 here. So if there are any gas tank or weight-cutting issues on Sunday, we'll know right away.
133: #4 Kaid Brock (OK State) vs. #6 Mitch McKee (UM)
One of the best rivalries in the sport has grown organically over the years. Brock and McKee used to always meet in freestyle at Fargo and national duals, and now they'll wrestle for a fourth time in college. Each time they wrestled last season, McKee closed the gap. Don't forget, though, the Gopher has to wrestle No. 1 Seth Gross of South Dakota State on Friday night, and the Gallagher-Iba Arena crowd loves Brock.
141: #1 Dean Heil (OK State) vs. #7 Tommy Thorn (UM)
Heil and Thorn have squared off three times, with Heil taking decisions by scores of 7-3, 10-7, and 2-1. The difference for Thorn this time around may come if he has made adjustments to the new scramble rules after his loss to Nebraska's Chad Red in the Daktronics finals on Nov. 5.
149: #8 Steve Bleise (UM) vs. #12 Geo Martinez (OK State)
In this clash of transfers, Martinez is one of the more interesting stories in the early season so far. He lost to teammate Boo Lewallen at the OCU Open, but Lewallen is ineligible until the second semester. Martinez was pinned by Troy Heilmann last Saturday but then rode two-time All-American Solomon Chishko for four minutes the next day. This is the type of match that can drastically affect seeding once March comes.
165: #5 Chandler Rogers (OK State) vs. #9 Nick Wanzek (UM)
Wanzek has put up double digits in three of his five matches so far this year, and the other two matches were a win over Isaiah White and a pin. Rogers meanwhile lost a last-second nail-biter to David McFadden. This is potentially the most entertaining match of the dual and the type of bout in which Rogers will either get a ridiculous pin or get taken down four-plus times and lose.