The pinnacle of the sport, the Olympic Games, goes down this August in Brazil.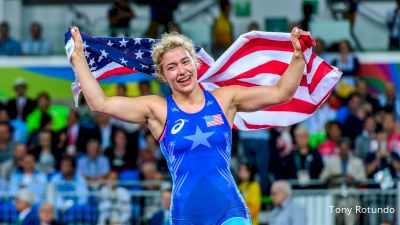 Helen Maroulis Makes History Against Three Time Olympic Champion Saori Yoshida
Aug 18, 2016
Full Olympic Brackets on FloArena here | Bracket Reactions/Preview For Burroughs/Dennis | Full Women's Freestyle Results

It is difficult to put into words the emotions of the 53kg gold medal match. The elation of Helen Maroulis, the misery of Saori Yoshida, and the feelings of euphoria or anguish coming from all over Japan and America.

For the first time, an American woman has won an Olympic gold medal. The finals match was very competitive, but Maroulis left no doubt that she is the world's greatest wrestler at 53kg.

When the draws came out, we knew that the 24-year-old from Maryland would have Yoshida if she made the finals. It seems fitting that our country's first title would come against one of the greatest in the sport's history.

In the first period, both wrestlers picked up passivity calls, with the only point coming when Maroulis was unable to score while on the shot clock. But she did an excellent job cutting off the mat and dictating the pace, something that would come in handy in the second period.

Less than 30 seconds into the second, Yoshida tried a slide-by and then immediately goes for a headlock. Maroulis walked slowly to the edge, calmly dipped her head out and grounded Yoshida to the mat for the first takedown of the match.

For the next minute and a half, Helen held center and kept Yoshida's butt towards the zone. As the final minute approached, Yoshida tried another slide-by. But Maroulis was ready for it, immediately defended with a knee pick as they dropped out of bounds for another takedown.

The final minute was a simple matter of Helen holding her ground and keeping a strong whizzer when Yoshida fired a single. After six minutes, both wrestlers fell to the mat and openly wept.

One stayed on the ground, and one was hoisted up by her coach. Maroulis' hand was raised, and she became Olympic champion.

Twenty minutes later, the gold medal was around her neck, and the national anthem was being played as the American flag was raised just a little higher than the Japanese one.

Watch the FloWrestling team go wild as Helen Maroulis makes history.