The pinnacle of the sport, the Olympic Games, goes down this August in Brazil.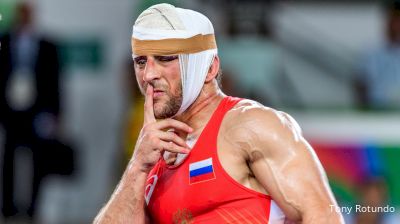 Aniuar Geduev Is Going Up To 86kg
Aug 23, 2016
By Christian Pyles

The man who stopped Jordan Burroughs from winning his 2nd Olympic title, Aniuar Geduev will likely never face Burroughs again. Geduev has announced he will be moving up to the 86kg weight class.

Eyeball test alone suggested the cut for Geduev was especially difficult, the report by rsport.ru seems to confirm just that. Geduev was incredibly muscular and large for the weight class that he has occupied much of his international career.

Geduev notified Rsport.ru of the weight change:

"The new Olympic cycle I will start, but will prepare for the nextOlympic Games in Tokyo, is not thought - Guesde said to rsport.ru -. The solution we will take a little bit later, but act in the weight category up to 74 kg I am more. I will not type the weight and move on to heavier weight category -. to 86 kgs. "

The verbiage may not be exact but there's nothing lost in translation regarding Geduev's weight moving forward. He's headed up to 86kg. Geduev took Olympic silver after losing a 6-0 lead in the Olympic final to Iran's Hassan Yazdanichariti. Geduev fell to Burroughs in a thrilling 3-2 bout in the 2015 World semi's. Geduev's decision to move up lends speculation towards the rest of Russia's lineup. 86kg is currently occupied by the #1 pound for pound wrestler in the world, Abdulrashid Sadulev of Russia. To many, this is further evidence that Sadulaev will be moving up to 97kg weight class.



Related:

Jordan Burroughs Falls To Aniuar Geduev

Jordan Burroughs Defeats Aniuar Geduev At Beat The Streets