The pinnacle of the sport, the Olympic Games, goes down this August in Brazil.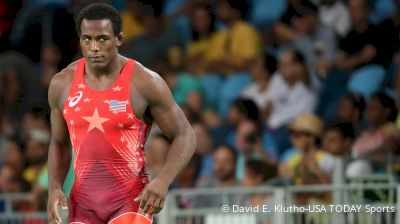 Dissecting J'Den Cox's Semifinal Fiasco
Aug 20, 2016
Another rollercoaster morning session for Team USA ends in heartbreak. Tervel Dlagnev and J'Den Cox were both able to make the semifinals, so we know they'll be wrestling for bronze medals tonight.

But you wouldn't know it based on the somber mood in the American wrestling community right now. Cox had two tough matches to start the day agains Mahamedau of Belarus and Karimi of Iran. He came out in both matches, moving well and working his stuff.

Against Belarus, his first takedown came off a counter, he went rubber knee to go behind. Again in the first he finishes on the edge and moved on to world bronze Karimi.

In that quarterfinal, Cox evaded Karimi multiple times and got several takedowns, setting up the agonizing semi with world silver Selim Yasar (TUR).

It was very clear in the second period that the two-time NCAA champ from Mizzou did not know criteria. When he scored a stepout, there was over two minutes left and Cox visibly changed his wrestling style. However, Cox was trailing on criteria because he had been put on the clock in the first period.

For Tervel, his back appeared to hold up in his first two wins, that is until the very end of the quarterfinals. He was matched up with a very familiar opponent in Ghasemi. The Iranian snapped him down and rolled him up four times with a gut wrench to get teched 10-0 after just thirty seconds.

Dlagnev's day started off excellently. He had a furious second period comeback against 2015 world silver medalist Magomedov of Azerbaijan. Heading into the second down 5-0, Dlagnev hit a nice low single to a lace to bring it within one.

That was the key point in the match, as the Azeri was clearly hurt on the lace. Dlagnev then attacked that same leg and finished off the takedown in the last thirty seconds.

Wrestling starts again at 2pm central time.