The pinnacle of the sport, the Olympic Games, goes down this August in Brazil.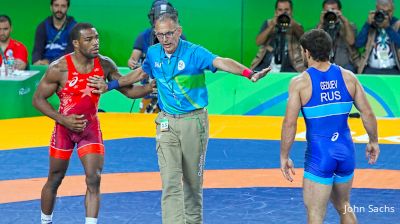 Upsetting Day For Burroughs & Dennis
Aug 19, 2016
Full brackets on FloArena

The feeling in American living rooms is grim right now. After the high of watching Helen Maroulis win gold yesterday comes the low of seeing Olympic champion Jordan Burroughs lose to a Russian.

Ever since last year's semifinals in Vegas, the book read that Aniuar Geduev was the only 74kg in the world who could defeat the champ. Burroughs won round one at worlds 4-3, Geduev took round two today 3-0.

It was a strange match from the start. Burroughs was slapping himself beforehand, and then both wrestlers literally came out swinging, followed by a little staredown.

In the first minute, Burroughs was given a passive and his head started bleeding, the first of many times the match would be stopped either for blood or for attentions from the official.

The second time Burroughs had to get blood cleaned up, he started waving his arms to pump up the American crowd. After a passive warning against Geduev, Burroughs received his second at 1:45 and couldn't score. Geduev led 1-0 at the break.

Again in the second period, the ref continued to warn both wrestlers for finger grabbing and hands to the face. About 45 seconds in, Geduev scored on a stepout.

Burroughs tried to fire off shots in the second, but couldn't get Geduev's hands above his knees and was unable to break through. But late in the match, Geduev was in on a shot, got Burroughs up and it ended in a stepout, which the American coaches did not challenge.

The final minute did finally see a Burroughs takedown, but it was too little, too late and Geduev moved on.

Down at 57kg, Dan Dennis drew Vladimir Dubov (BUL) round one. The 2013 world silver and 2015 world bronze blasted through Dennis on a double a minute in. Four gut wrenches later and the match was over.

Dubov was leading 4-0 early on Vladimir Khinchegashvili (GEO) but faded late and ended up losing 8-4, knocking Dennis out of repechage.

Both wrestlers to come out of the bottom halves of their brackets are very young. Hassan Yazdani Charati (IRI) went 10-0, 7-0, and 10-0, looking completely dominant. The 2014 junior world champ is on a roll and will pose a very interesting style matchup with Geduev.

On day one of Greco, we saw 59kg Shinobu Ota run through multiple world medalists to give Japan a finalist. Today, 57kg Rei Higuchi joined the fun.

After not placing last year as a 60kg at junior worlds, Higuchi ran through two-time world champ Yang Kyong-il (PRK), world bronze Yowlys Bonne Rodriguez (CUB) and world champ Hassan Rahimi (IRI).

None of those matches were close, either. He started off 12-2 over Yang and 10-0 over Asadulla Lachinau (BLR). Then, he followed it up 8-4 over Bonne and 10-5 against Rahimi, and both of those scores do not show how dominant Higuchi looked.

Repechage and medal matches start at 2pm. Burroughs will face former Clarion star Bekzod Abdurakhmanov (UZB), and if he wins will have Jabrayil Hasanov (AZE) in the bronze medal match.