The pinnacle of the sport, the Olympic Games, goes down this August in Brazil.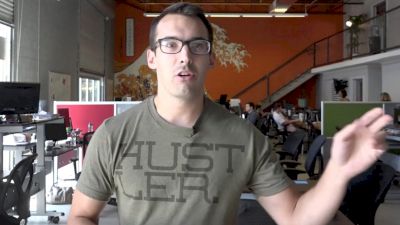 How UWW's Chief Referree Rigged The Olympic Games
Sep 26, 2016
Temo Kazarashvili (Left) and United World Wrestling's Chief Referee Antonio Silvestri (Right) were instrumental in the corruption throughout the wrestling portion of the Olympic Games.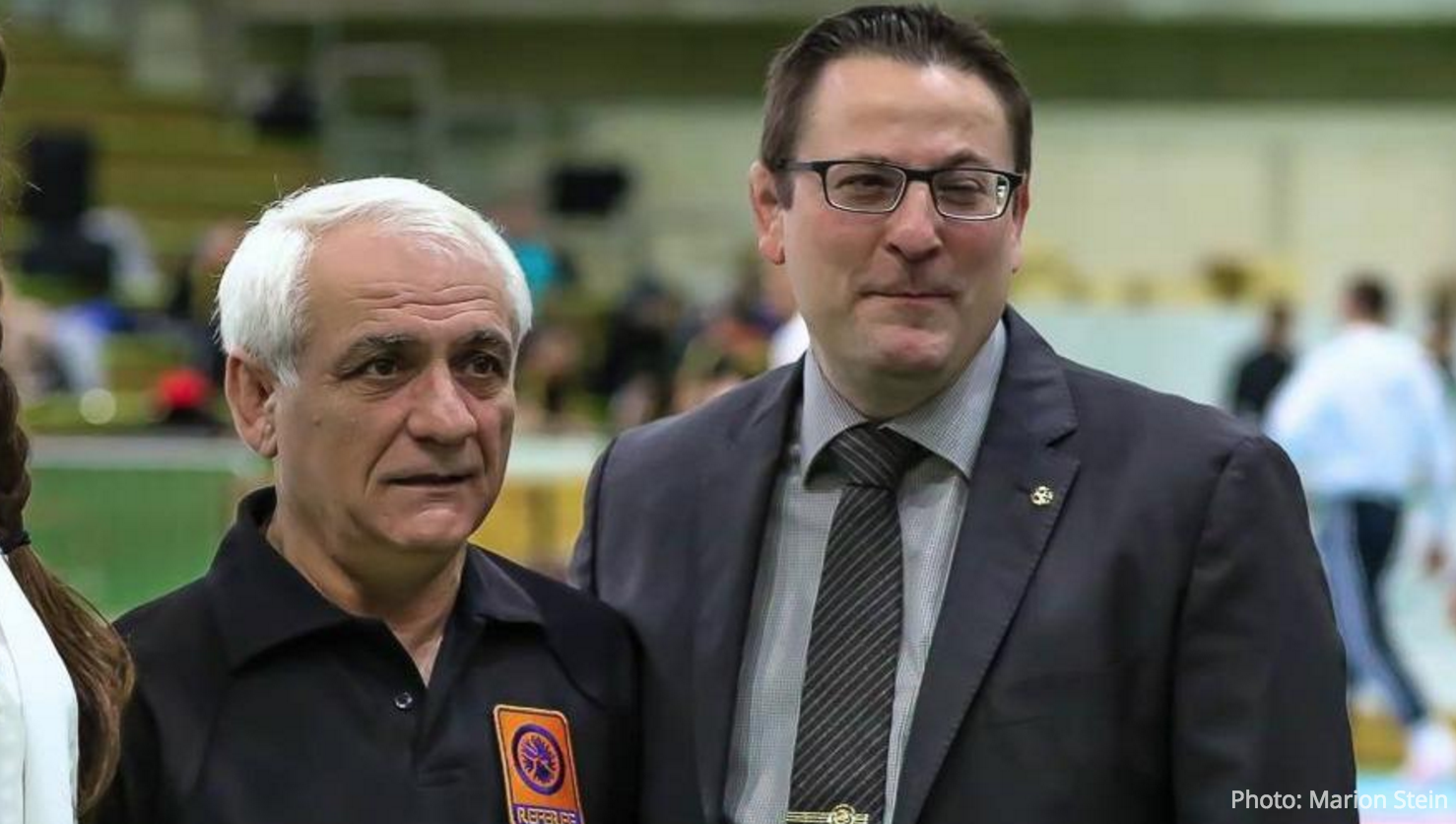 Doping, thrown bouts and match fixing. Unfortunately, international wrestling has never been short on allegations; what's been missing is evidence. After reviewing the officiating assignments in Rio, we think we found it. The evidence shows clear manipulation of a portion of the refereeing body, far more than anyone ever realized.

Everyone watched in disbelief during the 2016 Olympic Games at some of the calls. We didn't experience run of the mill bad calls - we observed corruption orchestrated by none other than United World Wrestling's Chief Referee, Antonio Silvestri.


How They Did It

What you need to know beforehand is the process by which officials are selected for different mats/matches. The selection to determine which officials will call which matches is supposed to be random, with the exception that no official may be on the mat for their own country.

Antonio Silvestri is the one man tasked with assigning officiating crews to different matches. What you will find below is Mr. Silvestri's unthinkable, yet transparent, attempt at rigging the outcomes of matches by predetermining the assignments of certain officials to work three countries (Russia, Azerbaijan and Uzbekistan) at a rate that is beyond what could be considered coincidence. All told, there are 10 officials whose usage is beyond just suspicious and is undeniable evidence of officiating corruption.

What Silvestri set up was a group of officials who were in on the scheme, and whom he, as United World Wrestling's chief referee, assigned to work matches of the three implicated countries at an astounding rate.

It is important to know, the mere presence of these same officials involved with an inordinate number of matches with the three implicated countries is evidence of corruption. Just because a blatant and poor call wasn't made doesn't mean there wasn't nefarious action going on.

Few can believe Mr. Silvestri, a German, crafted the scheme that benefitted Russia, Uzbekistan and Azebaijain by himself. Yet after reviewing the assignments, he certainly acquiesced to whatever coercion was applied.


High Profile Hijinx

As we saw the clearly rigged calls during the Olympic games involving the Reza Yazdani/Khetag Gazyumov and Franklin Gomez/Ikhtor Navruzov bouts, it is important to understand that these seemingly isolated incidents were actually a part of a grand scheme and an undeniable pattern of officiating impropriety either created or agreed to by Antonio Silvestri.

Take for example the officials involved in the Navruzov/Gomez match and Yazdani/Gazyumov match. The officials of note in the 97kg bout were Konstantin Mikhaylov (Uzbekistan) and Temo Kazarashvili (Georgia) . The jury of review had Sergey Novakovskiy of Russia. In the 65kg bout, we saw Tong-Kun Chung (South Korea) and Temo Kazarashvili (again) along with Sergey Novakovskiy (again). The two complicit officials (for whom will demonstrate a pattern of corruption for throughout this article) intentionally butchered calls. In what was perhaps the most egregious call or the Olympic Games, Mikhalylov and Kazaashvili both white paddled the takedown for Yazdani in the 97kg match vs. Gayzumov. In on the act was Novakovskiy, who would not allow the takedown as the jury of review. Fifteen minutes many in this crew decided to turn their misdeeds to the Navruzov/Gomez bout. The call was butchered by Chung (who hysterically changed his call 3 times before he got on the same page as Kazarashvili) and Kazarashvili, who once again had their bad call upheld by Novakovskiy in the review.

1 Blue, the initial call by Chung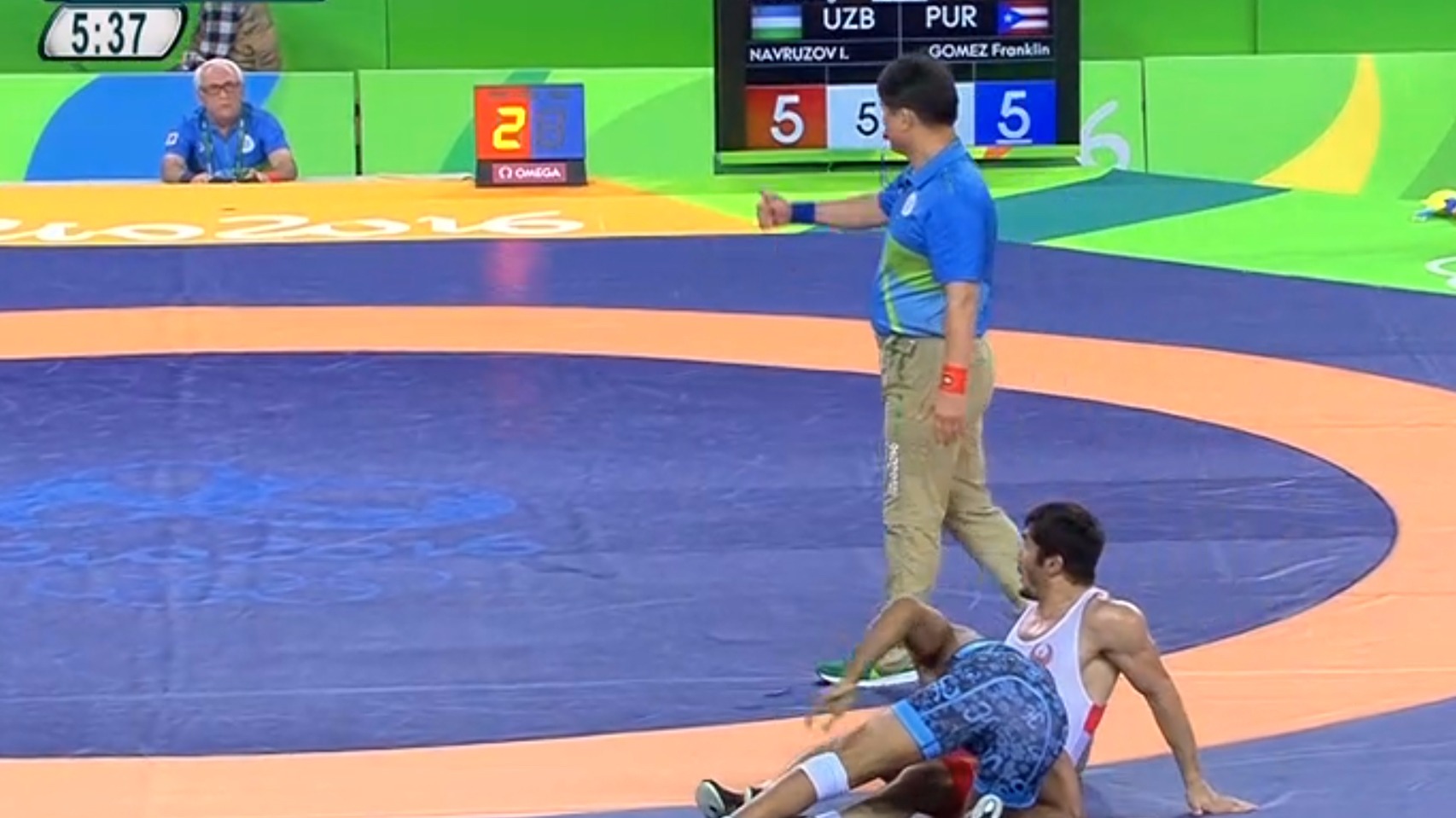 Then 2 blue?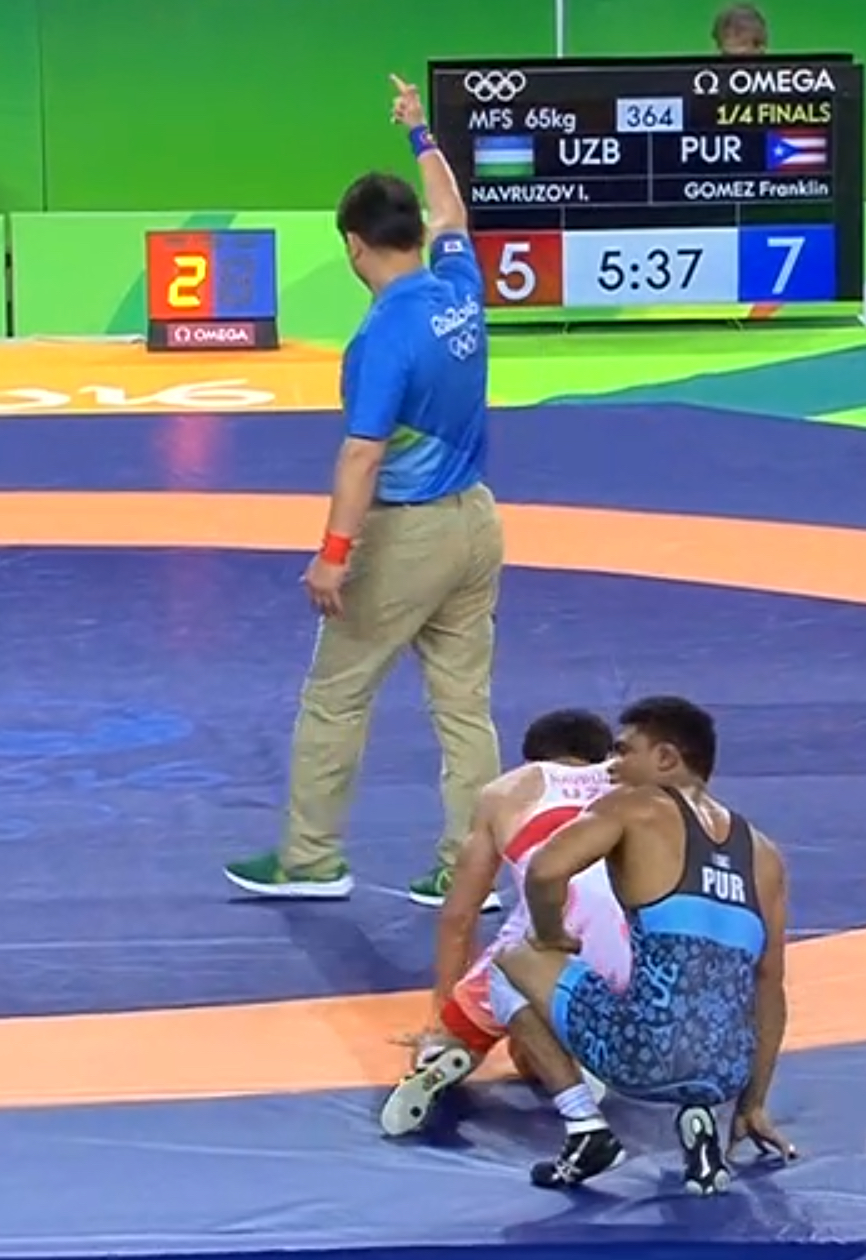 Now 2 red!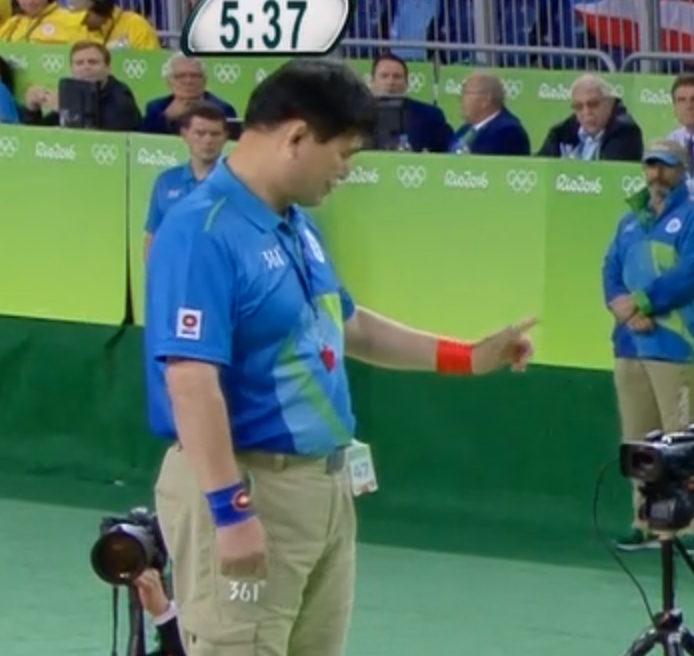 Novakoskiy blatantly ignores the right call twice as a juror, in this image, suppressing an honest juror from grabbing the blue paddle for Franklin Gomez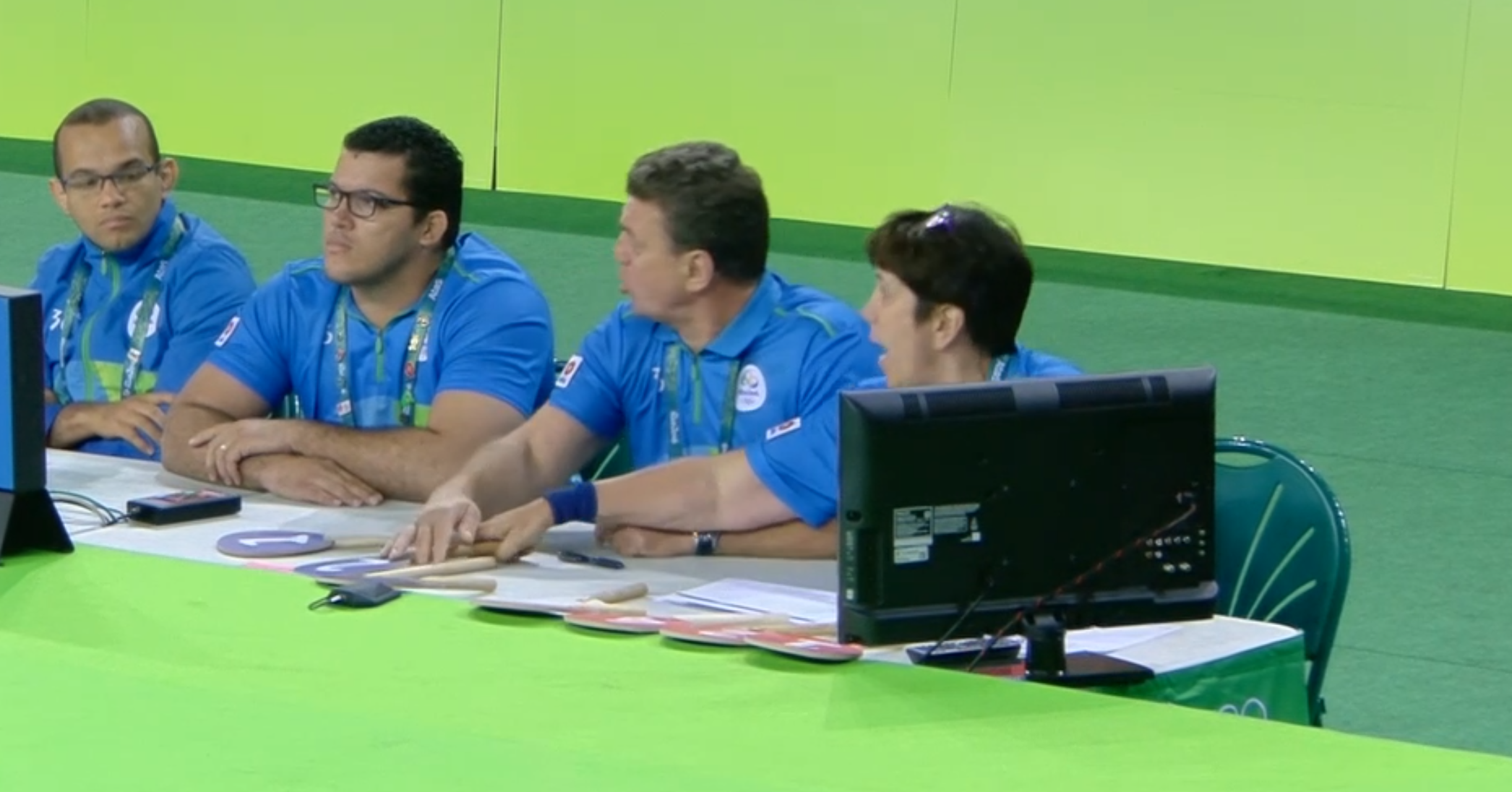 The Ejected Officials Statistics

But we all already know this, this corruption was observed and documented. What you'll see now is that these officials were not there by happenstance.


#47 Tong-Kun Chung, South Korea - Ejected

Chung was the official for Russia, Azerbaijan and/or Uzbekistan an incredible 53% of the time. Everytime he was a chairman, there was a Russian on the mat. For all of Uzbekistan's matches, Chung was on the call 15% of the time. Mr. Chung would be disqualified following the Navruzov/Gomez match.


#45 Temo Kazarashvili, Georgia - Ejected

While Temo's involvement wasn't statistically as rampant as a few others. He still was involved with an implicated country at a clip of 50%. Additionally, his usage during two of Davit Chakvatadze's (of Georgian descent) bouts coupled with his blatant ignorance of the UWW rule set point a clear picture that Kazarashvili was among the corrupted. Silvestri would ultimately disqualify Mr. Kazarashvili following the Navruzov/Gomez swindle.

Kazarashvili theatrically advocates for the incorrect call in the Gomez/Navruzov bout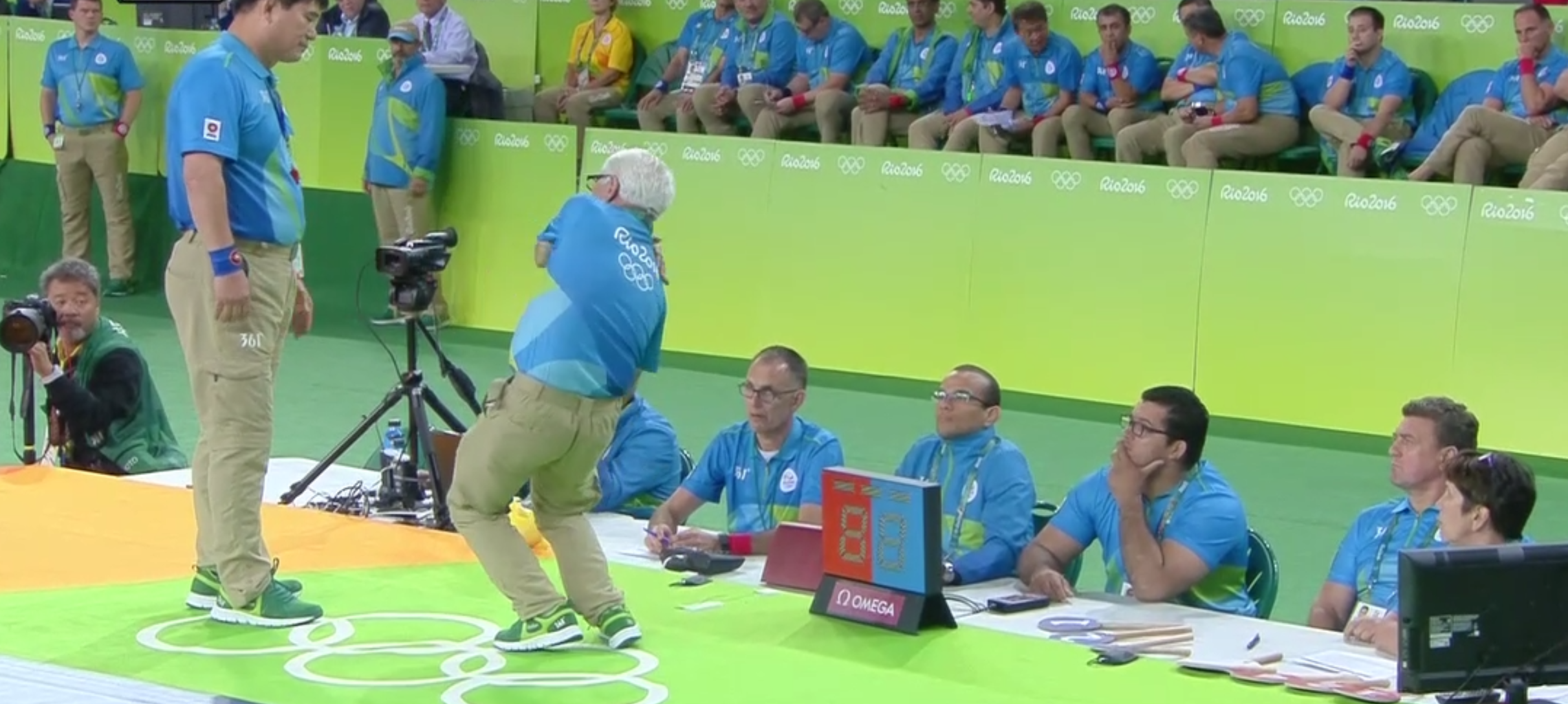 #14 Sergey Novakovskiy, Russia - Ejected

The numbers aren't as staggering with Novakovskiy either, but he is as obviously dishonest as anyone involved. While he only was a juror for Azerbaijan and Uzbekistan 20% of the time, he changed the outcomes of at least two of those bouts, negating his fellow jury member in both the Navruzov/Gomez and the Yazdani/Gazyumov matches.

Novakovskiy (Left) ignores the blatant takedown by Reza Yazdani, to the chagrin of fellow juror, Zach Errett, who signals for 2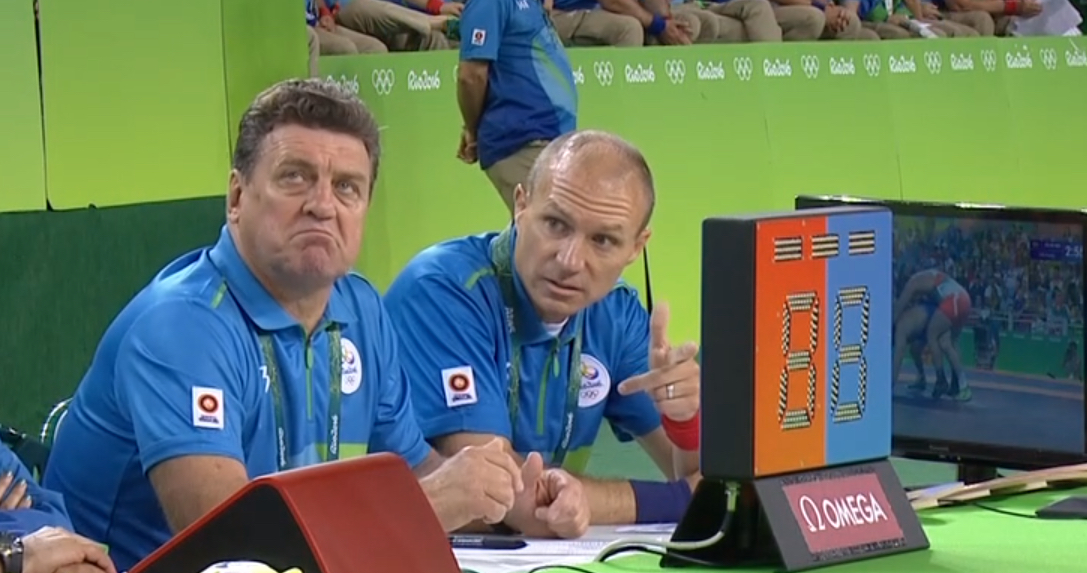 The Additional Implicated

The realization and acknowledgement of these patterns takes you down a black hole of blatant corruption. We found even more beyond the initial patterns of ejected officials.


#29 Ihar Brel, Belarus

When Brel was a judge, 85% of those bouts involved Russia, Azerbaijan and/or Uzbekistan. When Brel was an official, 53% of those matches involved Russia, Azerbaijan and/or Uzbekistan. He was the referee for 20% of all Uzbekistan matches. Of the nine matches he was involved with in MFS, eight featured Russia, Azerbaijan and/or Uzbekistan.


#35 Kochkor Kulmatov, Kyrgyzstan

Kulmatov officiated 11 bouts for men's freestyle. 10 of those bouts involved Russia, Uzbekistan and Azerbaijan. 10. This cannot happen in an appropriately random mat assignment. As an example, highly regarded American official Sammy Julian officiated 8 matches in men's freestyle. None of his 8 matches involved an implicated country. This is in stark contrast to Kulmatov's 10 out of 11 matches with implicated countries.

Brel and Kulmatov appear to have been a team for the purposes of the conspiracy. They were paired up as ref and judge six times, all of which were for Russia, Uzbekistan or Azerbaijan.

Brel and Kulmatov were also paired together in a completely flabbergasting way. First of all, a five-person combination hitting twice does not happen. Second, if it does, they don't have the same specific jobs. Third, they won't happen in the same style, in the same round, for the same country! The grouping was ref Ihar Brel (BLR), judge Kochkar Kulmatov (KGZ), chair Andrey Krikov (RUS), Jury 1 Bakhytzhan Jaxykulov (KAZ) and Jury 2 Noreddine Mochaffaa (MAR). While Jaxykulov is not implicated, it is impossible that this same group would be seen twice in two days.


#5 Edisher Machaidze, Georgia

Machaidze was involved in 31 matches for Greco Roman. Of those matches, 18 involved a combination of Russia, Azerbaijan and Uzbekistan. Machaidze only officiated 13 matches that did not involve those three countries. In men's freestyle, Machaidze officiated in 15 of the 43 total matches wrestled by Russia, Azerbaijan and Uzbekistan. (35% of those nations bouts). Of the 90 bouts wrestled by other countries, Machaidze only officiated 18%.


#12 Konstantin Mikhaylov, Uzbekistan

Mikhaylov was the chairman for the Yazdani/Gazyumov bout. He was the official for 10% of all Azerbaijan matches. The only official who was involved at a higher rate of Azeri bouts was Stanislav Sernek. He also officiated high profile bouts including Khinchegashvili (GEO) and Aliyev's (AZE) quarterfinal as well as Aliyev and Dubov's (BUL) bronze medal match.


#15 Uwe Manz, Germany

Of the bouts Manz refereed, 83% involved Russia, Uzbekistan and/or Azerbaijan. 48% of the matches he was the chairman involved those same three countries. For all of Azerbaijan's matches, Manz was the chair for 20% of the bouts, for Uzbekistan it was 15%.

Uwe Manz (GER) is considered one of the best officials in the world, so much so that he was awarded the "Golden Whistle" by UWW after the Olympics. It is possible that he was used to throw off the stench of corruption on his peers, in a way helping to legitimize what an officiating crew is supposed to be, which is fair and unbiased.

Manz (official #15) was used in 52 matches, 40 of which he appeared as the chairman. Between MFS and GR, he was the chairman 26 times; 12 for UZB/RUS/AZE matches and 14 times otherwise.

On the surface, one could view these assignments and think that he his in cahoots with the dirty officials. However, the purpose of using him as a chairman is to essentially neuter his effectiveness in negating bad calls. It is also likely he is not the only patsy in the scheme, though Manz is the most high profile.


#10 Noreddine Mochaffaa, Morocco

Of the 42 matches that Russia, Azerbaijan and Uzbekistan wrestled in Greco Roman, Mochaffaa was on the jury in 25 of those matches, or 60% of the time. For all other countries' 94 matches, he was only on the jury for 13 bouts or 14%. For men's freestyle, of the 43 matches involving the three implicated countries, Mochaffa was on the jury for 20 of them (47%). For all other countries he was just involved just 21% of the time.

Incredibly, Mochaffaa and the aforementioned Machaidze were on the jury for 83% of all Russia, Azerbaijan and Uzbekistan's matches for men's freestyle. The same was true for Greco Roman. Machaidze or Mochaffaa were on the jury for 74% of all of Russia, Azerbaijan and Uzbekistan's matches. That said, Mr. Mochaffa may also be a well placed decoy in the scheme. Since he was a jury member and only involved when a call was challenged, there are not enough action points to say for certain that Mr. Mochaffa was complicit in the scheme.


#27 Stanislav Sernek, Slovenia

Of the 19 matches Sernek was involved with during men's freestyle, 14 of those involved an implicated country. Of note, he was also part of the refereeing body when the Mongolian coaches displayed their distrust with the system after Ganzorig (65kg) lost his bout in the closing seconds on a caution point.

A particularly damning stat for Sernek is that he was the chairman for Sadulaev three times. No other athlete in MFS had the same chairman three times. Considering there were 11 chairmen used in the 22 matches at 86kg, the odds of this happening are extremely low.


#8 Andrey Krikov, Russia

Krikov was the mat chairman for Azerbaijan in 24% of their bouts. A closer look reveals Krikov having been the chairman in back-to-back bouts with Jabril Hasanov (AZE). Additionally he was on the mat for both Gazyumov's (AZE) and Sharifov's (AZE) quarterfinal matches. Quarterfinal bouts are paramount in international wrestling as a win in the quarters guarantees a medal match. He was the chairman for 22% of all Azeri matches, and 20% of all Uzbekistan matches.


#17 Hirjan Sharifov, Azerbaijan

Of the matches that officiated, 50% of them involved Russia and Uzbekistan. He officiated 14% of all of Russia's matches.


High Profile Hijinx

You've seen the incredible numbers, you've seen the rigged matches and now you'll see how these crews were placed for different athletes. Think of them as ushers, tasked with aiding certain countries from point a to point b(the next round). For someone like Abdulrashid Sadulaev, he didn't need these officials help. However, three of Abdulrashid Sadulaev's four matches had Stanislav Sernek as the chairman.


Quarterfinals

A careful review of the implicated officials shows that the round with the most chicanery is the quarterfinals, which are very important in international wrestling. First of all, they are still early enough that fewer eyes will be on them than say a medal match or final. But more importantly, a quarterfinal win guarantees that you wrestle for a medal, which appears to be the goal of this scheme for Russia, Azerbaijan and Uzbekistan.

In the event of a questionable call, a corrupted staff would need two out of three between ref, judge and chairman, as well as one of two jurors, to have a questionable call go in the favor of a certain wrestler. This type of combination could be found in the Aliyev (AZE), Sharifov (AZE) and Gazyumov (AZE) quarters for MFS. On the Greco side, it was used for the quarters of Tasmuradov (UZB), Chunayev (AZE), Vlasov (RUS), Mursaliev (AZE) and Chakvetadze (RUS).


Khetag Gazyumov, Azerbaijan

Gazyumov's run is a path wrought with implicated officials from start to finish. In his five matches, he saw Kulmatov three times and Ihar Brel three times. Noreddine Mochaffaa was on his jury for the quarters, semis and finals. Additionally, Sernek was the ref for both his semifinal and the gold medal match. All told, he saw 15 different officials out of 25. Of those 15, nine of them are implicated in the officiating scandal. Each match of his featured at least three implicated officials. The intent of this officiating orchestration was revealed in Gazyumov's quarterfinal against Yazdani. Everyone of Gazyumov's matches had at least 3 implicated officials.

Compare that with Kyle Snyder, who saw 17 different officials out of a possible 20 in his four matches. The only overlap was that he had Osamu Saito [4] twice as a judge, he Levant Sen twice, once as a ref and once as a chairman, and he had Edit Dozsa twice, once as a jury member and once as a chairman. When the matches are reviewed at the same time, it is obvious Silvestri orchestrated a helpful path to the finals for Azerbaijan.


Davit Chakvatadze, Russia

Another wrestler who had a yellow brick road laid for him to the final was Davit Chakvetadze. The 85kg Greco champion wrestles for Russia but is of Georgian descent (this is an important distinction). Of his first four matches, he had Noreddine Mochaffaa four times as a juror, which is a number so astronomically low (0.077% of the time) it shouldn't happen even over the course of multiple tournaments. Chakvetadze also saw Sernek twice as a chariman, Brel twice and Kulmatov twice.

Not only are the sheer numbers damning, what absolutely cannot be excused is the use of Temo Kazarashvili as the referee in two of Chakvetadze's matches. Kazarashvili is a Georgian ref, Chakvetadze has Georgian roots. There is no possible way Silvestri missed this fact. The two matches Kazarashvili was assigned to ref were crucial ones for Chakvetadze: his quarterfinal, which would guarantee him the right to wrestle for a medal if he wins, and the gold medal match. Considering the power the on-mat ref has in terms of stopping par terre, it is an immensely valuable position to hold in a Greco-Roman match.


Haji Aliyev (AZE) vs Vladimer Khinchegashvili (GEO)

When you know the implicated officials and have it laid out where to look for potential nefarious action, one match that stands out is Haji Aliyev (AZE) vs Vladimer Khinchegashvili (GEO). In this match, our friend Tong-Kun Chung was the referee for this match. In this match 4 of the 5 officials involved were implicated. Tong-Kun Chung, Konstantin Mikhaylov, Noreddine Mochaffaa and Sergey Novakoskiy. Then you watch the match, and the stink of corruption was undeniable. In spite of the clear bias towards the Azeri Aliyev, Khinchegashvili still managed to get his hand raised.

In the beginning of the 2nd period, Aliyev takes a leg attack, Khinchegashvili throws him by for the counter td. Chung blows the whistle to put them up! I can only guess, but assume he attempted to call a slip. Chung likely should have been ejected immediately following this match.

Clear takedown by Khinchegashvili waved off by Chung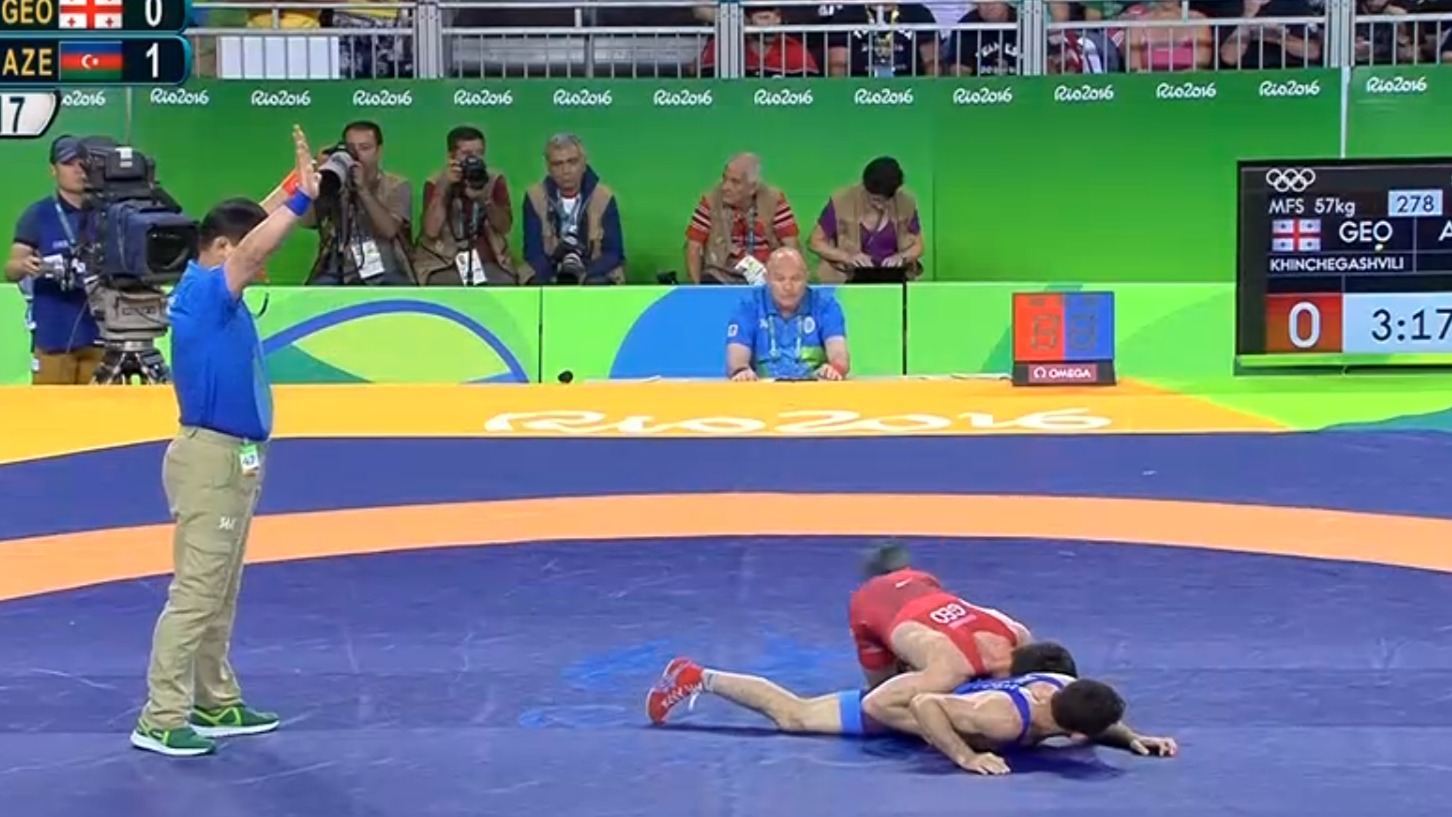 Later in the match, Aliyev gets a takedown and immediately asked to be put back up neutral(not wanting to spend time getting a turn on par terre) to which Chung obliges. The top wrestler is not supposed to be able to make this determination. This time on top is typically around 15 seconds in freestyle, but Chung, eager to assist Aliyev, immediately puts the two neutral.

Aliyev allowed to get up 3 seconds after takedown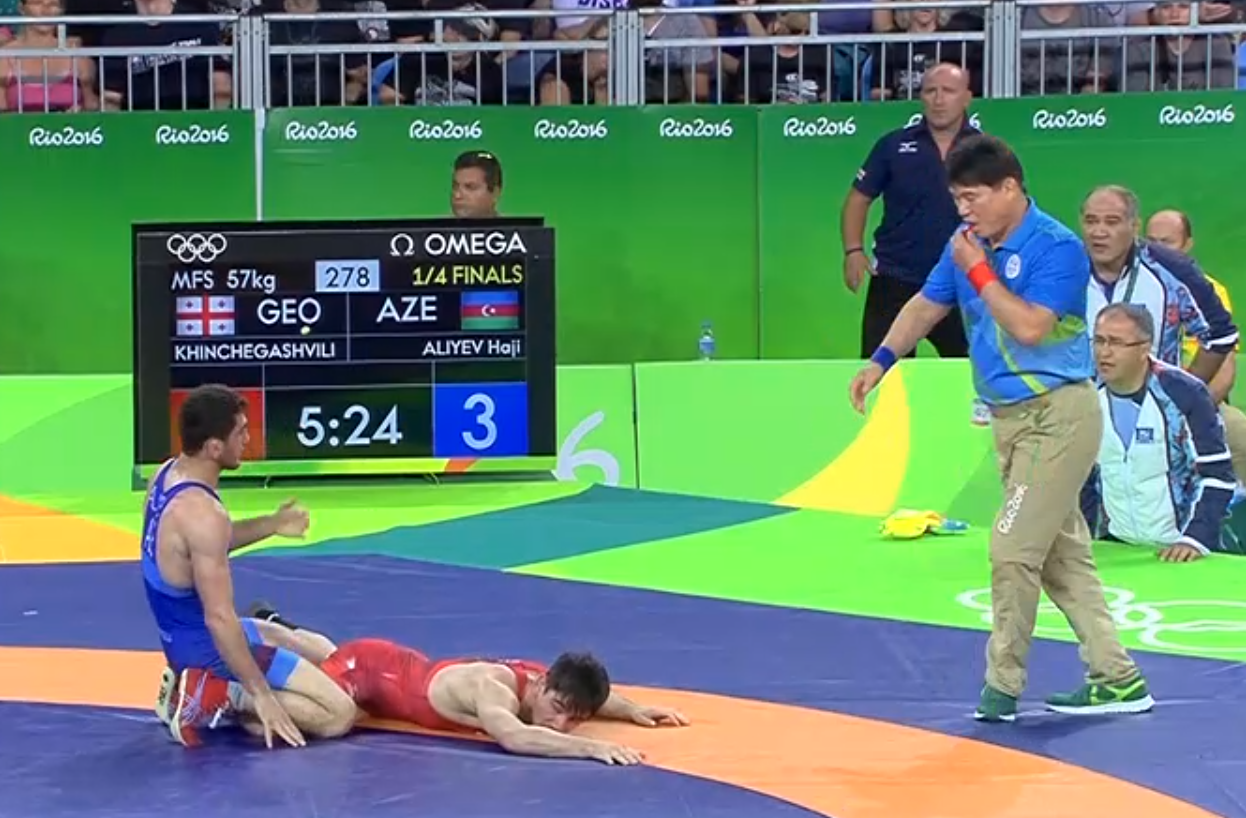 Conclusion

It may be unbelievable, but this article merely scratches the surface of the corruption created by Antonio Silvestri at the Olympic games. With more time and statistical analysis, many more conclusions can be drawn.

What is undeniable is that Antonio Silvestri, the man tasked with ensuring fairness and equity, went out of his way to set the antithesis into motion. The question that follows that is "why?" Why would a German official, who rose to the rank of chief referee by earning widespread trust of the international wrestling community, suddenly jeopardize the integrity of the sport and himself? One can safely assume that Silvestri succumbed to pressures from much higher powers.

It is incumbent upon United World Wrestling leadership to use the findings of this article to confront and remove the criminals within their ranks. Given the watchful eye placed on wrestling as it pertains to the Olympic program, the sports future may rely on an appropriate response from United World Wrestling.

Editor's Note: Special thanks to Dan Lobdell and Andrew Spey for their invaluable contributions.